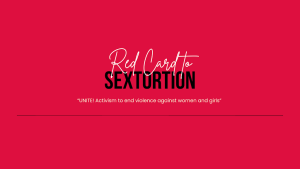 By Grace Anaja

We attended the RedCard2Sextortion Campaign launch and panel discussion organized by Devatop Centre for Africa Development and supported by the United States Embassy in Nigeria on December 9, 2022, at the Raw Materials and Research and Development Council, Abuja. The discussions aimed to highlight and address sexual violence to commemorate the 16 Days of Activism against Gender-Based Violence (GBV).
Devatop Centre for Africa Development is a youth-led nonprofit organization that focuses on combating and preventing human trafficking, empowering women and youths, and educational transformation.
Sextortion is coined from the words 'sex' and 'extortion', which usually occurs between an individual of higher authority coercing another from a lower cadre, demanding sexual favors. It is multidimensional as it occurs physically and online and cuts across various demographics: age, status, class, etc. Sextortion can also be in the form of cyber crimes like blackmail and threats by posting individuals' private content, such as nude images, online for a fee.
The forum was also an opportunity to commemorate International Anti–Corruption Day, which takes place on December 9 every year, as sextortion is a form of corruption. In his opening address, the Executive Director of Devatop, Joseph Chidiebere Osuigwe, sees sextortion as a hidden pandemic in the educational, religious, corporate, and non-corporate systems. He spoke about the varying forms of sextortion: in the educational system, it is termed sex for grades or admission; in the religious system, it is sex for deliverance, prayer, or breakthrough; in the corporate world, it is sex for promotion or employment; in the banking and finance sector, it is sex for investment, and so on. He reiterated the need to create awareness and combat the issue.
Julie McKay, the representative of the United States Embassy, gave her remark and renewed the United States' commitment to end GBV as online sexual harassment and exploitation are criminal offenses, and perpetrators use fraud, force, and coercion. She spoke about educating people, especially minors, about online sexual exploitation and abuse and showing compassion for victims. She urged everyone to increase the momentum towards ending GBV.
There was a video report of the TALKAM project, a technology-driven program that was created to encourage individuals and critical stakeholders to speak up to end GBV, forestall human trafficking, and prosecute human rights violators. The project began in Kaduna, Niger, and the Federal Capital Territory in Nigeria to address all forms of gender-based violence – physical, sexual, psychological abuse, and economic isolation – through various approaches such as weekly radio programs, social media awareness, skit production, debates, video competitions and more. The project is in its fourth phase, which features an internship program involving teachers, youth, community leaders, women leaders, Civil Society Organizations (CSOs), etc., who were trained as advocates to orient and empower women against GBV and human trafficking at the grassroots level and beyond.
From a legal angle, the Violence Against Persons (Prohibition) Act 2015 is a provision in the constitution to address the exploitation of individuals and prohibit all forms of violence. However, significant hindrances to ending GBV are the fact that certain provisions are not included in the act, the delay in passing the Sex-for-Grades bill into law, and the failure to provide safe spaces for victims and survivors to speak up.
In the corporate world, every organization must implement policies against sexual harassment and sexual abuse. These policies can only be implemented in formalized settings.
Some of the biggest perpetrators and most significant enablers of sextortion include the culture of silence and inadequate frameworks for prosecuting offenders. Survivors are afraid of the backlash from society in the form of victim shaming and victim blaming, which further emboldens perpetrators and family members who believe speaking up would lead to a scandal for the victim and the family. African society is highly patriarchal in nature, and this is ingrained in our culture and religion. Some sexual harassment policies are ineffective, and enough awareness has not been created in tertiary institutions. There is no specific law that criminalizes sexual harassment in universities.
With the involvement of relevant stakeholders, possible solutions can be applied, such as providing mechanisms within schools to punish perpetrators and psychological support for survivors. Institutions should have specific policies and legal frameworks to address sextortion. Social media campaigns help to create more awareness about sextortion and technological innovations, especially mobile applications that are available for reporting cases of sexual harassment, as well as safe spaces to engage in conversations surrounding this issue. Avenues should be created in religious spaces to create awareness. Provisions should be made to avoid the re-victimization of individuals by lecturers or other staff in institutions and organizations. Parents should also be involved in the awareness processes and childcare service providers for those with disabilities and anyone vulnerable.
The war against GBV in the form of sextortion is still ongoing, and through more concerted efforts, we can win this fight. It is possible.
Cross-section of Panelists at the Red Card to Sextortion Event