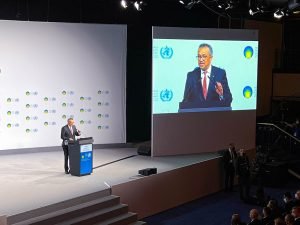 General Tedros Adhanom Ghebreyesus, Director, World Health Organization
by Adetayo Adetokun
We attended the World Health Summit from October 16 – 18, 2022, and had insightful takeaways, especially from the sessions curated for African healthcare and food systems.
The World Health Summit (WHS) 2022, organized jointly with the World Health Organization (WHO) for the first time, is considered the world's leading meeting on global health. Held under the patronage of German Federal Chancellor Olaf Scholz, French President Emmanuel Macron, Senegal's President Macky Sall, and WHO Director-General Tedros Adhanom Ghebreyesus, WHS 2022 aimed to stimulate innovative solutions to health challenges, foster global health as a critical political issue and promote a global health conversation in the spirit of the UN Sustainable Development Goals.
The health systems in many communities in Africa are vastly inadequate today. Since the pandemic began, it has become increasingly obvious that our health systems have further disintegrated, with barely any systems in place to check this rot. The COVID-19 pandemic, which claimed the lives of nearly 80 million people worldwide, further showed how vulnerable our healthcare systems are. Our governments have yet to make the investments in our healthcare systems that would provide the requisite knowledge to improve or even manage the sector. As a result, millions of people who got the COVID-19 virus could not be saved, worsening the social contract between governments and their citizens.
Almost all funds we received – whether for research, vaccination, or other health service delivery components – came from nations and organizations who have made these investments in their health systems and could afford to share their excess.
We believe every neighbourhood, state, and nation across Africa should have effective and efficient healthcare systems. As more advocates begin to hold the government accountable, we are starting to witness a gradual transformation of the healthcare systems in Africa.
At the summit, we attended two main sessions organized for Africa:
The Road to 2023: Are we Achieving Universal Health Coverage?

Transforming Food Systems for Healthy and Sustainable Diets
Here are some of the excellent lessons we learned from these sessions.
First Panel Session: The Road to 2023: Are we Achieving Universal Health Coverage?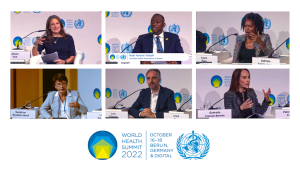 The speakers in this session included: Sandrine Bouttier-Stref, Global Head of Corporate Social Responsibility Sanoli; Alison Cox, Policy and Advocacy Director, Non-Communicable Diseases Alliance; Gabriela Cuevas Barrón, Universal Healthcare Coverage 2030, Co-Chair of the Steering Committee; Loyce Pace, U.S. Department of Health and Human Services (HHS), Assistant Secretary for Global Public Affairs; Dr. Luis Pizarro, Executive Director at Drugs for Neglected Diseases initiative (DNDi); and Dr. Peter Kwame Yeboah, Executive Director, Christian Health Association of Ghana.
In this session, we learned that global health, numerous collaborations between product development partnerships and the pharmaceutical industry multilateral partnerships have already demonstrated the important role in driving access to healthcare in multiple low- to middle-income countries and across the most affected vulnerable populations. While it is clear that partnerships can result in significant benefits, challenging questions remain open.
It showed us a clear road map to foster robust and sustainable collaborations that must be urgently developed to close the access gap and put us on the path to a world where equal access to quality health care is ensured for everybody.
According to Gabriella Cuevas Barron, it took a pandemic that claimed the lives of more than six million people to realize how shaky the global healthcare system was. Although it may seem challenging, achieving universal healthcare coverage would be much simpler if monies were properly financed and monitored as they were used to develop the healthcare system. To ensure that nobody is left behind, we must include women and girls in these decisions.
Peter Kwame Yeboah discussed the situation in Ghana and how they dealt with the recent healthcare crisis. In the last few years, religious and humanitarian organizations have assumed control of healthcare to improve coverage. In contrast to government-owned hospitals, they are nonetheless marginalized and subjected to extremely high standards, making them unable to perform as they should. To stop this, they must make sure that these partnerships are restructured. These selective regulations have made it difficult for these hospitals to operate.
According to Luis Pizarro, it is crucial for every nation to be aware of the number of neglected diseases it has, particularly those in Africa. It is clear that several diseases impact millions of individuals, but because they reside in underprivileged areas, little attention is paid to them, and no solutions are explored. Ideas are excellent, but they need great finance to take flight. Thus nations seeking to attain universal healthcare coverage by 2030 must start providing funds for outstanding ideas.
In her address, Alison Cox stated that 80% of current fatalities are brought on by Non-Communicable diseases (NCDs) and that this number might increase to 52 million in the upcoming year. Only 1% of individuals with NCDs have access to effective therapies. Since millions of people worldwide suffer from numerous chronic and lifelong diseases, most of which are chronic and lifelong, partnerships are crucial to addressing the NCD problem. We require funding from a variety of sources, including private organizations and individual donors to NCD funds. Regarding equity, she emphasized its significance. To eradicate NCDs, we must begin with the most disadvantaged populations.
The significance of the pharmaceutical industry in assisting with the attainment of universal healthcare coverage was discussed by Sandrine Boutlier-Stref. The importance of understanding how these sectors contribute to making pharmaceuticals more accessible to people all around the world cannot be overstated. To reach a compromise where innovations are produced to address urgent problems, the government and the business sector must cooperate.
Loyce Pace spoke on empowering healthcare professionals. Everyone who works in the healthcare industry needs to be given a chance to express themselves and complete their tasks in a calm setting that supports them. When we accomplish this, we'll be able to gauge our readiness to meet the 2030 goal of universal healthcare coverage.
Second Panel Session: Transforming Food Systems for Healthy and Sustainable Diets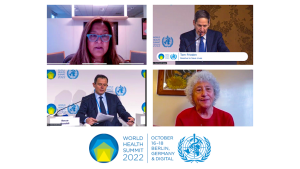 The speakers in this session included: Dr. Stefanos Fotion, Food and Agriculture Organization, Office of Sustainable Development Goals, Director, UN Food Systems Coordination Hub; Dr. Tom Frieden, President, Resolve to Save Lives; Prof. Dr. Marion Nestle, New York University, Paulette Goddard Professor of Nutrition, Food Studies, and Public Health; Rocco Renaldi Secretary General International Food and Beverage Alliance; and Dr. Geeta Sethi, Advisor and Global Lead for Food Systems, The World Bank.
This session delved into the challenges, opportunities, and needs to transform commercial determinants of malnutrition towards financial leverage for healthy diets. This session was informative because we could understand from the presentations that economic drivers are essential for action in healthcare service delivery. Private sector activities shape the accessibility, affordability, and desirability of foods and ultimately impact the burden of malnutrition.
Effective use of public finances, such as agricultural subsidies, investments in infrastructure, trade, and research, and public purchases of foods, as well as public policies that control food marketing and food pricing, may leverage change in private sector activities, especially in health. Conversely, commercial approaches such as political lobbying, policy interference, harmful marketing practices, and the imbalanced production and supply of foods that are not conducive to healthy diets negatively impact food systems and malnutrition, exacerbating health inequalities. At the same time, food manufacturers are responding to the calls to shift towards healthier and more sustainable diets.
According to Tom Frieden, obesity is a major cause of death in our society right now. Moreover, no one is truly certain of what obesity's genuine causes are at this time. However, it is abundantly clear that many foods we eat are harmful. Thus our government must begin strict regulations on unhealthy foods, particularly those whose cholesterol levels are more harmful than beneficial.
According to Dr. Geetha Sethu, 3 billion people worldwide are currently undernourished. 500,000 farmers around the world who produce food cannot afford healthy meals. Food systems have funding: if food producers were a nation, they would have the nation's nineteenth-largest economy. Food is financed, and food prices have encouraged food waste. To prevent food waste, we must lower food prices.
Dr. Marion Nestle emphasized that although businesses want to increase their profits, it is the government's responsibility to regulate them and ensure that all of them are held to the same standards and evaluated equally. Since the pandemic's start, more people have been actively concerned about their health. However, it has become extremely difficult for them to maintain a healthy lifestyle due to the constantly rising food prices. This is where the government steps in to control these prices.
Rocco Renaldo said food production has been hampered by climate change. Different climatic circumstances impact the majority of ingredients required to produce healthful diets. Access to food has changed significantly as a result of how negatively the globalization of climate change has impacted agriculture. As advocates of climate change, we must first strengthen our food systems.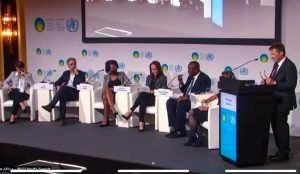 These two sessions were important because of the intersection between food production and consumption and Africans' overall health and well-being. The role of the government in managing what we eat and universal health coverage is too important to be left without accountability trackers for the government. But the government isn't the only one with the responsibility: we must contribute to demand generation by educating ourselves about how we can improve our healthcare systems and hold our government accountable.
At Shades of Us, we know our work is cut out for us. We will continue to use storytelling to simplify the sustainable development goals and, in this case, inform people of their rights to universal health coverage while advocating for the government to fulfill its social contract.