by Cynthia Umeh
Another fun-filled event!
Shades of Us Storytelling Initiative for African People ('Shades of Us') was invited for Walk4Education, a fitness and advocacy walk organized by FlexiSAF Foundation to commemorate World Human Rights Day on December 10, 2022, at the International Conference Center. Nothing was better than exercising while advocating for the rights of out-of-school children and wrapping up the 16 days of activism against gender-based violence campaign, which began on November 25, 2022.
FlexiSAF Foundation is a non-governmental organization that focuses on providing access to quality education to underprivileged children to solve the scourge of illiteracy and the problem of out-of-school children in Nigeria.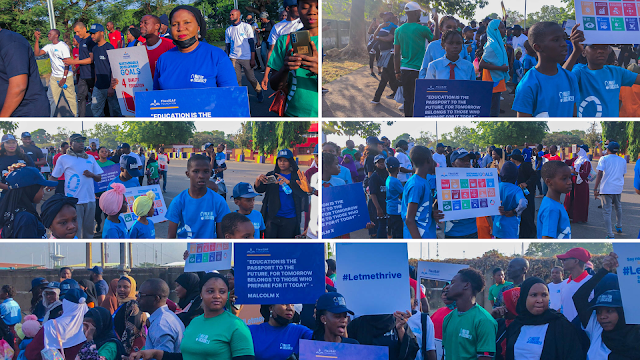 Walk4Education was incredibly significant. It was a coming together of many Civil Society Organizations (CSOs) who also provide quality education, advocate for children's behalf, and call on the government to ensure access to quality alternative education in a safe environment.
During the walk, Ms. Amina Abubakar, Executive Director of FlexiSAF Foundation, gave a critical message. "See how much money is going into politics? If the same amount of money and attention is given to education, we believe we won't have to spend much on defense and others." She also said FlexiSAF Foundation has been working to take out-of-school children back to school through its numerous programs, and the walk was an opportunity to showcase the progress made by the children in their programs.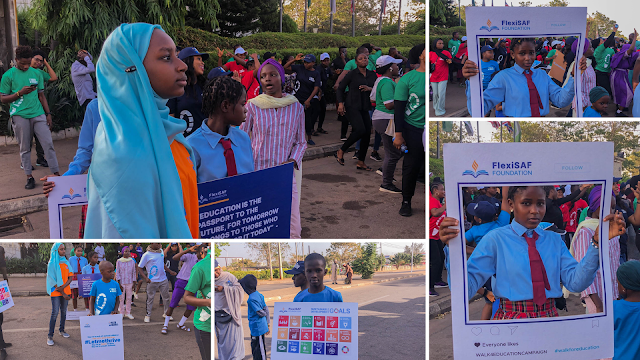 It was a long, energetic walk. You would think people would be tired from walking, but it was quite the opposite. We had fun while playing a role in promoting education. Education is essential to the growth and development of Africa, Africans, and people of African descent. It is one of the core global goals that we tell stories around, and we are constantly seeking opportunities to partner with other organizations doing the same thing.
Our highlight was seeing children actively participating in the walk, unveiling the Walk4Education performance, and singing and dancing during and after the walk. This shows that even children are tired of the lack of education for their fellow peers.
There was a small gathering after the walk. Children sang, and a documentary on the FlexiSAF Foundation project in different communities under their AccLearn program was screened. A beneficiary also came up to share her story.
Mr. Laban from PLAN International shared, "Education must be put on the agenda of whoever is coming into office. Civil society should design the agenda for education for whoever is coming into office".
Mr. Umar, from the Office of Humanitarian Affairs, also gave a goodwill message. "If children are out of school for long, it has no good effects on the country." He congratulated everyone for coming and is ready to work to reduce the number of out-of-school children.
At the end of the event, FlexiSAF Foundation announced the launch of Young Education Advocate (YEA) and encouraged everyone to sign up for the program.