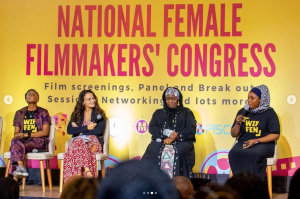 Panel session at the National Female Filmmakers' Congress.
"Women belong in all spaces."
We are glad to see that more women have accepted this and are creating rooms for themselves to be seen and heard. While there is still so much work to be done, we are seeing women buck against gender norms in career choices because, and it is sad that this has to be said…careers are not gendered.
We are especially ecstatic about the number of women who are taking on roles in all areas of filmmaking: writing, editing, directing, production, marketing, distribution etc. You are as likely today to see a woman rigging her own camera and lights as you are to see one in the biggest rooms where film publicity and distribution are discussed.
This is such a flex!
It is why when we heard about the conference for women in film, we were excited to attend.
The National Female Filmmakers Congress was organized by Girls Voices Initiative, conveners of Women's International Film Festival Nigeria (WIFFEN), on October 11, 2022 at the Shehu Musa Yar'adua Centre in Abuja. The congress was a gathering of filmmakers to celebrate women in film, the International Day of the Girl Child and World Mental Health Day. It was an avenue to watch films made by women, listen to filmmakers share their experiences in the industry, and generally pick up lessons that we could adopt to improve our work as filmmakers.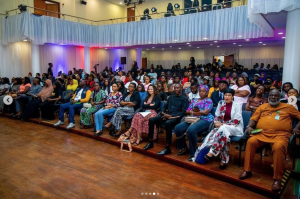 Cross-section of participants at the event.
Welcome remarks were given by Emmanuelle Blatmann, the French Ambassador to Nigeria, and Mrs. Carolyn Seaman, Creative Director, Girls Voices Initiative. Two films were screened at the event: Miss Binary by Girls Nation (Kano) and The Burial of all Women by Girls Nation (Abuja). The films centered on resilience and mental health, and were a powerful watch.
Following the film screening was a panel discussion on the films that had been viewed. Panelists included Halima Ben-Umar, Maryam Abubakar, Binwana Gazuwa, Amaka Agudiegwu, Asabe Madaki from Girl Nation in Kano and the Federal Capital Territory, Abuja. They shared their experiences and how the Girl Nation program has impacted their life and work.
Panel session with Nadine Ibrahim and Rahama Sadau.
Other panel sessions were "Tips on Global Standard Productions (Netflix, Amazon Prime, International Film Festival etc.)" with Nadine Ibrahim of Nalia Media and Rahama Sadau, Actor and Producer at Dee Dee Films where they urged filmmakers to be authentic, detail and quality oriented, and to build a portfolio that proves the quality of their work.
There were breakout sessions around funding films, and the legal aspects of filmmaking with Mr. Muhammad S. Bawa and Barr. Ese Igbako Esq. respectively.
Overall, we think it was a great event and opportunity to engage with a gathering of women in film.